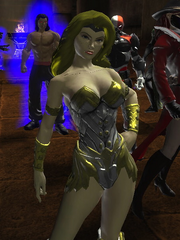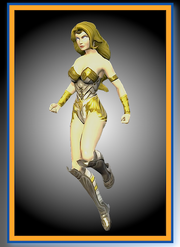 "It only takes a few wrong decisions to make your dream a nightmare"
Biography
Edit
Name: Natasha Yvonne Luthor aka "Ms Mamba"
Gender: Female 
Age: 21
Measurements: 34 - 24 - 35
Height: 5'10 (1.78m)
Hair Color: Red (currently blonde)
Eye Color: Blue (Glowing White if power is active)
Alignment: Villains
Mentor:  Circe
Power Classification: Quantum Powers
Movement Classification: Supersonic Flight
Weapon Classification: One handed/Bow
Background
Edit
Her name is Natasha Yvonne Luthor. The one and only child of Lex Luthor and Lois Lane from another dimension, Earth 0149, where Luthor killed Superman and they ruled the world with an iron fist. She was trained to be a cut throat business woman, scientist and assassin. She was destined to succeed his father when the time comes. 
But things did not go according to plan.
After a fierce alien invasion by thousands of Doomsday clones led by Darkseid himself, Earth's defenses did not stood a chance. Ironically, for Lex, there was no other recourse but to send his daughter to another dimension to escape. Before Darkseid was able to blow up Earth 0149, Natasha Yvonne Luthor was inserted to a pod and disappeared from existence.
The pod reappeared in the midst of yet another alien invasion. Brainiac was bottling up buildings and took humans aboard his warships. Yvonne tried to escape but she was hit with an exobit, she fell and bumped her head on the pavement. 
Months after, she finally woke up, inside the alien ship. Confused and unaware, she received a call from Calculator. She was shocked to learn that she had gained some sort of power.
Using her new found powers and her knowledge of assassin, she rose to become the right hand of Circe. Her armor is a gift from her Mentor. forged by the same blacksmith with the same materials as those of WonderWoman. 
She never told this world's Lex who she really was, and instead, she built her own Company, Inspired by Nightmares and now resides at the Headquarters, Nightmare Corp Tower.