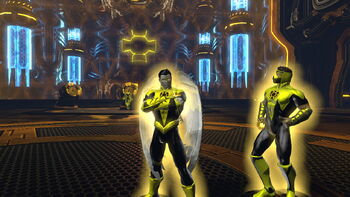 "You have the ability to inspire great fear. Welcome to the Fear Elite strike team of the Sinestro Corps."
League History
Edit
Fear Elite is a special forces team embedded within the Sinestro Corps. The team's goal is to advanced the Sinestro Corps in the War of the Light, and help aid allies with their struggles on Earth to strengthen the Corps's forces.
The team was created during the Strike Team Operation in the War of the Light by Revera. Their first mission was to launch an assualt on Mogo, the sentient planet of the Green Lantern Corps. The team initially included its Grandmaster Revera, and its former second-in-command, the Dreadknight Hybrid. As of this edit we have over 250 members (after losing double in a permissions misshap) and are looking to grow further with some help. If you would like to join please read the info section below.
Fear Elite is currently recruiting any and all Yellow Lanterns in EU PS. If you are not a Yellow Lantern (Light Villain) you may join our open rank as an Informant. We are a brand new team, if you are interested in joining please contact me. We have no combat rating requirements upon entry. Ranks will be distributed based on contribution over combat rating. Do not ask to be second in command. Dreadknight privileges are given only to active and trusted members.
Our league hall, Elite HQ was opened on the 23rd August 2014, If you would like permission to visit please conract me.
Notable Members
Edit
Dreadknight Rampage99
Dreadknight Maka'u
Assassin Superman Elite
Fear Elite Ranks (Descending Order)
Edit
Grandmaster
Dreadknight
Assassin
Enthraller
Terrorizer
Menacer
Shocker
Constructor
Tormentor
Informant (Open Rank)